The Avenue Plaza Hotel
ARRIVAL
The day I checked in at The Avenue Plaza Hotel, I came all the way from Catbalogan, Samar as part of my solo motorbike Luzon – Visayas – Mindanao tour wherein my journey entailed going to all 3 of The Philippines' major island groups in one go. I was on the third week of my journey, and after travelling a total of some 3000 plus kilometers, I arrived in Naga City, Camarines Sur.
Finally, a hotel where the website matches the reality.
I traveled far to arrive at The Avenue Plaza Hotel, but when I got there it was as though I stepped into another world. Beautiful lights adorning the entrance, piano playing in the background, with tasteful Christmas decorations, and a very relaxing atmosphere, if only for one night. At the reception area, I was welcomed by the friendly staff stationed, and even though I came from a long trip, and was in an unfamiliar place, It felt like home.
Everyone from the hotel will really help you feel very much welcome.
After getting 2 copies of the much more secure electronic card key for my room, the bellboy offered to carry all my things which I brought, 3 heavy bags to be exact…I declined, saying I can handle it (personal preference), and he politely obliged (which was good for me, because my experience with other hotels would be different – they will bug you to death).
THE ROOM
There is such a homely feel about the hotel and the setting is so peaceful even though it's only a few minutes from the center of Naga City.
So I went up to the second floor as I was very excited to rest and relax in one of The Avenue Plaza Hotel's superior rooms, as I was very tired – I came all the way from Catbalogan, Western Samar (it's in another island) that very same day – solo on a motorbike. So just imagine all the discomfort and tiredness I was feeling at that time. I opened the door to a large elegant room, with the added sparkle of my very own personalized greeting card from the Hotel President. Upon entering, I saw that the room was spacious, there was a comfortable large bed, a separate reclined chair to sit and relax, your own mini-ref, a flat screen, among others. The bed was one thing that if I could take him home, I would have done. Hard in the right places and comfortable.
The en suite bathroom was very spacious. The bathroom was a good size with a shower, sink, bath tub, and a complete set of all the toiletry you would need (even a hair blower and a telephone!).
My room was just beautiful. The bed was so comfortable as were the pillows and duvet. I always have a problem with sleeping away from home but not here. I slept so well and it was down to the pure comfort of the bed and the bedroom itself. There's plenty of floor space and storage space also, and each room has its own climate control so you're never too hot or cold no matter what time of the year you visit.
I haven't even been in the hotel for 15 minutes, and yet it starts to feel like home already.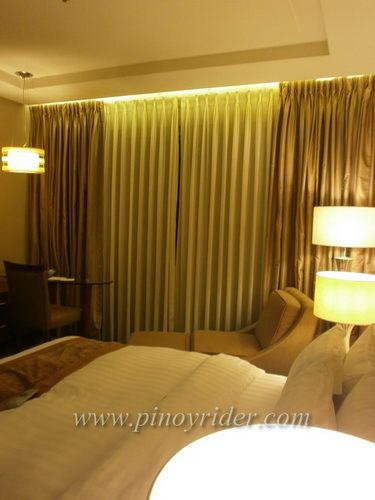 _______
Having relaxed for a few minutes, I was ready for dinner. I wanted to check out Cafe Plazuela for dinner, however I wanted to explore the city that night, so maybe for breakfast.
The location of the hotel couldn't have been more strategic, right smack at the very busy Magsaysay Avenue in Naga City. And not only that, it is situated at the same area wherein The Avenue Square is in. According to their website The Avenue Square is "Bicol's first and only premiere lifestyle center. Home to twenty one various business establishments that fulfill the diferent upscale lifestyle needs of those who seek a difference; from dining to beauty, fashion to business." So that only means that the hotel is surrounded by everything you might just need in your stay in Naga City.
After dinner I retired to my room to freshen up, relax some more, and then go to bed for the perfect sleep. I had everything I needed in my room, as I'm the type of person to rest first before jumping into bed. So with that, I relaxed at the reclined chair beside the bed, and the soft and cozy feel made me want to sleep right there and then. I melted more into the comfort of The Avenue Plaza Hotel. The bed was the most comfortable I had ever slept in in a hotel. On my previous 2 weeks of journeying, I had always set an alarm to wake me since I was working on a tight schedule, and this is the first time I slept through it.
THE NEXT DAY
In the morning I headed for the hot tub before breakfast, and only regretted having to get up and leave after a only a few minutes …only because I was getting hungry. 😛
Breakfast at Cafe Plazuela was delicious and was the perfect finish to my getaway. It was good, and there was a nice selection from the buffet. You could also order some hot dishes from the menu, these were all excellent.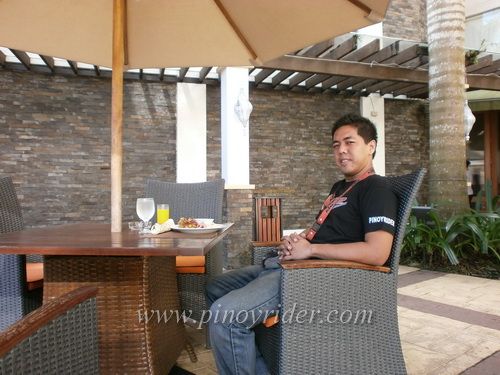 The leisure area is very nice and includes an infinity pool. There's also an extension of the restaurant near the pool wherein you could sit at the open area, and be shaded by the trees, while eating your meal or by simply having your coffee. I am just sorry that I was not able to try out UMBRIA (the 2-level infinity pool) nor The Olympia Gym and Sauna.
OVER-ALL
The entire experience left me glowing after such personal warm and welcoming service, I left completely satisfied.
But what sets this hotel apart from the other hotels was the attention to detail and the professionalism of the staff. Nothing was ever a problem and you were greeted very warmly by all staff. A particular mention must be paid to the lobby staff who were wonderful and sets the tone as soon as you walk in. I was also greeted by my name without having to provide it which was such a lovely touch. The staff were very genuine, and helpful – without being over the top.
Apple and Jerome took good care of me and arranged everything about my stay from start to finish.
Talk about personalized service. This hotel takes the cake.
As it says on their website, "Experience the good life." I did.
I will definitely be back. Hopefully longer next time.
I would highly recommend The Avenue Plaza Hotel –
Magsaysay Avenue, Naga City 4400, Philippines
(+6354) 473-9999
Live Free…
– Erik Gatmaitan is the author of https://www.pinoyrider.com – Journeying the Philippines SOLO on a motorbike.
Follow his adventures on his website or through his Facebook page at http://www.facebook.com/PinoyRider