Biyaheng Sagada
by The Pinoy Rider

The perils of long distance riding
December 16, 2010.
I still remember it vividly. 5:30 pm, 2 meters to my left would be a 6,000 ft dive off a steep ravine when while orchestrating a difficult turn, I suddenly had a spill because of the muddy road . I was covered in mud head-to-toe. The worst part it was that it happened in the middle of the scary and intimidating Banawe-Bontoc road. What will happen if my bike won't start after this? How can I troubleshoot it if it's almost nighttime? I stayed for 30 minutes, trying to compose myself and get my bearings back, and only 1 other vehicle passed by.
I was almost in the middle of nowhere, alone. If you've seen the picture, yes that is the main highway.
Good thing I ended up okay.
God is good all the time.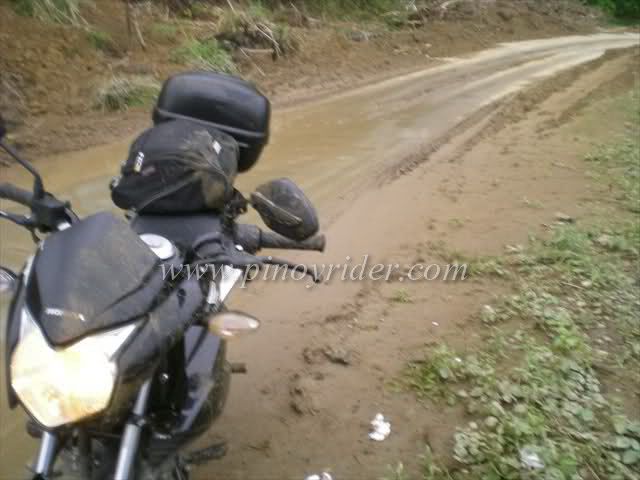 Live Free…
– Erik Gatmaitan is the author of https://www.pinoyrider.com – Journeying the Philippines SOLO on a motorbike.
Follow his adventures on his website or through his Facebook page at http://www.facebook.com/PinoyRider
What better road to break in your new bike, than the one up in the mountains so I decided to tour the Cordilleras, and traverse the very beautiful Maharlika and the scenic Halsema highway. When I did my Solo North Loop last year, it was a different experience altogether, so this time, to make it different, I wanted to visit the beautiful provinces, at the middle of the map, Kalinga Province in particular.
I didn't know what to expect, which made it even more interesting for me.
Some pictures.
From Manila up to San Jose, Nueva Ecija, it was quite a boring 3 hour ride. Had my breakfast in Cabanatuan then proceeded straight to San Jose. After San Jose, that's when the experience starts. Beautiful mountains both on your sides.
Just outside San Jose.
Region 2 tower in Nueva Vizcaya. Monument to give tribute to our Chinese comrades in WWII
Had my first gas stop in Solano, Nueva Vizcaya (after 304 kms).
A sample of one of the road accidents I encountered… this one's just after Solano.
____
Reached Santiago, Isabela at about 4 PM so that gives me 2 hours before sundown. I wanted to reach Tabuk, Kalinga with the sun still up because I actually do not know how is it travelling there at night, with all the stories that we hear in the news about that province. Was on full throttle for almost two hours when I reached the town of Quezon in Isabela, a couple of kilometers before the left turn going up to Tabuk.
There were alternating police and military checkpoints every 5 kilometers going to Tabuk. I'm not surprised why.
While I was travelling in pitch black (headlights on of course, I know) there were a lot of animals on the road. It was hard to drive like this, add the fact that you are going up in zigzags. This was probably the only city I've been to which had a lot free roaming animals on the main highway – cats, dogs, pigs, chickens, cows, goats, etc. Dmax gave me the warning not to hit any animals on the road, or else…
Upon arrival, one would see a big white Carabao in the middle of the road, signalling your arrival in Tabuk, Kalinga.
Immediately asked for directions from a tricycle driver on how to get to Davidson Hotel. I did not make any reservations, so thank God there were vacancies. 1100 Php per night.
Took a bath then proceeded to their Coffee Shop/Restaurant to chill out and rest.
They are selling Musang Coffee in this place.
This is what I had for my late dinner. Ilocanong Pinakbet with rice. The hotel staff were kind enough to give me a complimentary extra rice, on the house. They said the viand was good for 4, and true enough, I was not able to finish it all, inspite of my hunger for the past 6 hours.