When: Jan 25, 2009 (Sunday)
1st meeting place:
4:00 am at Monumento in front of Padi's Point
Take off – 4:30 am
2nd meeting place:
5:00 AM – Jollibee/7-11 Sucat Interchange (SLEX Exit)
Take off – 5:15 AM Sharp
Route: Start: Paranaque
Rizal: Antipolo – Teresa – Baras – Tanay – Pililia
Laguna: – Mabitac – Famy – Siniloan – Pangil – Pakil – Paete – Kalayaan – Pagsanjan – Cavinti – Luisiana – Lucban – Tayabas
Pabalik na route: via Sto. Tomas, Batangas
There are a lot of twisties so let's all practice caution.
Requirements:
– Complete Legal Documents (OR/CR, correct restriction code)
– Safety Gears
– Safety Gears for backride
– Condition your bike
– Condition yourself
– Gas money for more or less 250 kms (roundtrip) + food money
– No shorts and/or slippers
– Camera
We started our route via the Backdoor Marilaque route … Antipolo going to Laguna.
Our first stop would be Mang Vic's Bulalohan in Antipolo (pic above)
While having a leisurely pace, my riding buddy Rob had an accident while doing a sharp turn in Tanay, Rizal
Here's some pics of his damaged Suzuki Raider 150.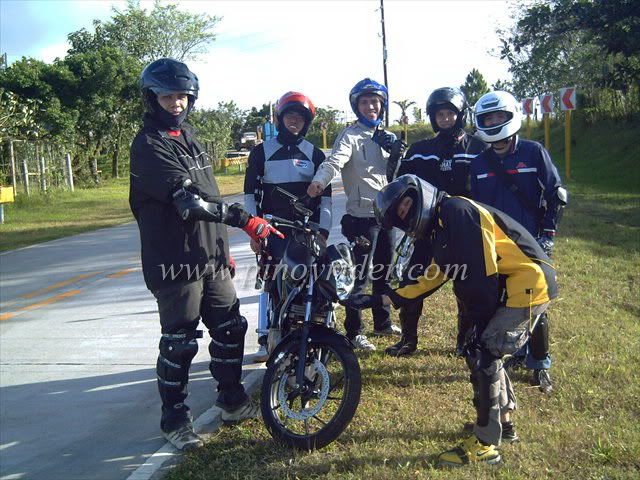 We still found time to take a souvenir shot after the accident. Lol! This will be a fun trip indeed.
After a couple of hours waiting and having it temporarily repaired in a motorcycle shop somewhere in Tanay, we proceeded towards Laguna.
Right before Pagsanjan… there was a town fiesta, lucky for us!…or so we thought.
It turns out they celebrate it by throwing water at people and cars crossing their town.
Kakaibang fiesta ito. Lahat dapat maligo pati mga motorist binabasa. Whew!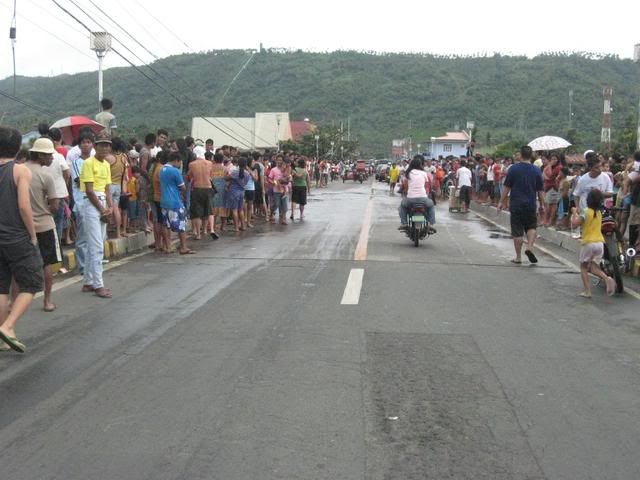 Yan tuloy basa na kami 😀
Yan mga abangers oh! Water gun, tabo, timba and etc..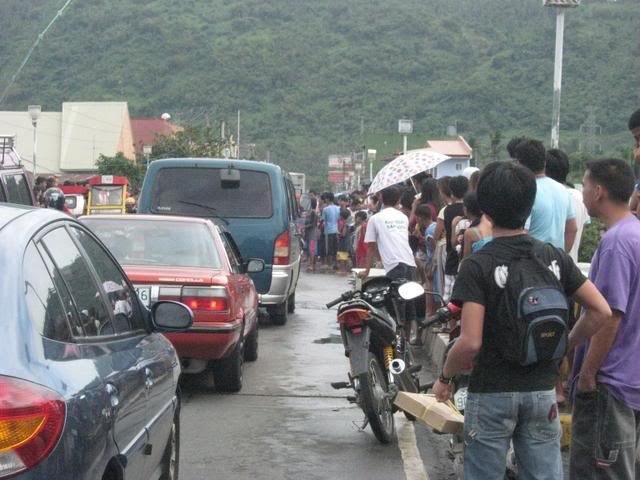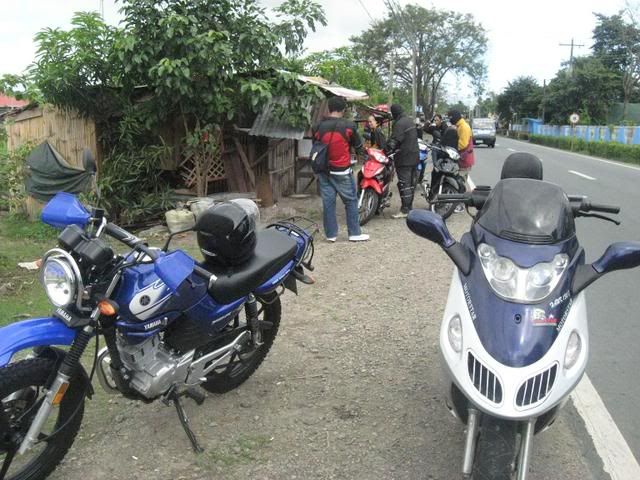 Ang saya naman! 😀
Nearing our destination, it was raining heavily so we took shelter in a gas station.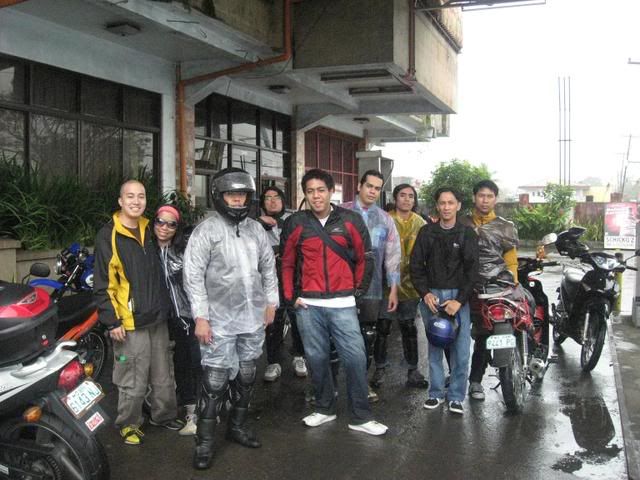 With our raingears still on.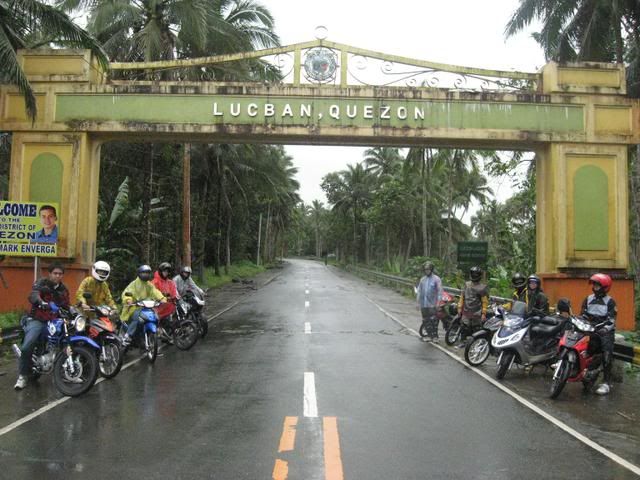 Now entering the town of Lucban, Quezon
After a couple of hours more traveling, and after a total of approximately 170 kms, we finally reached our destination – Kamayan sa Palaisdaan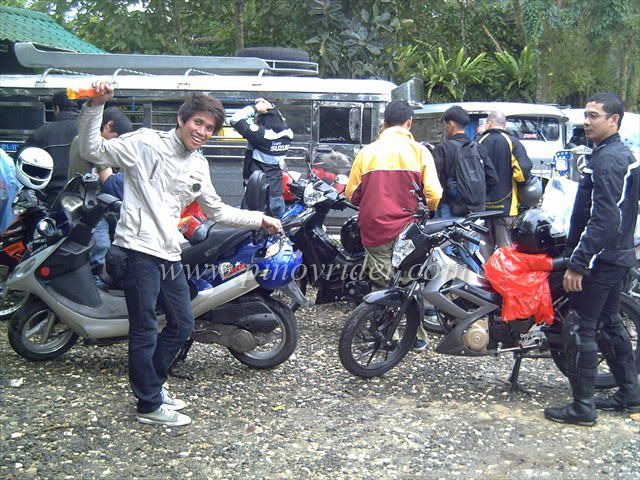 The Parking Area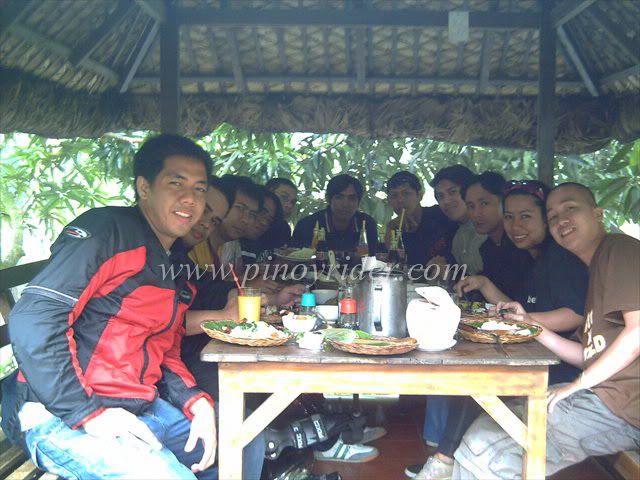 Very hungry…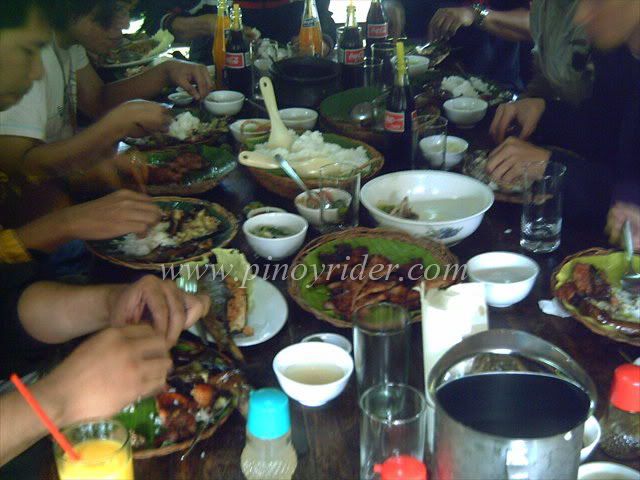 Aaaahhh…the trip was indeed worth it.
To burn off the extra calories we took in… we decided to visit the nearby Kamay ni Hesus (Hand of Jesus) Shrine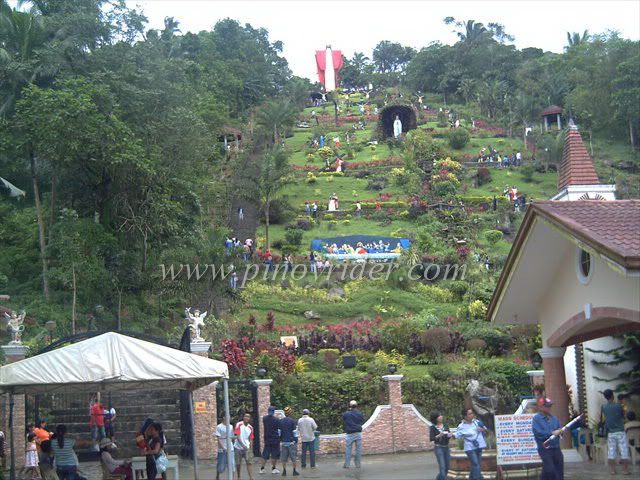 This sure is high!
Going home, me and Jeffs took the Provincial Highway going to Sto. Tomas Batangas to Calamba, Laguna. Arrived at home a little bit past 9 pm. Truly a day to remember.
Touchdown.
16 hours and 310 kilometers for me today!
Need to rest.
With my baby Pie (Yamaha YBR)
Live Free…
– Erik Gatmaitan is the author of https://www.pinoyrider.com – Journeying the Philippines SOLO on a motorbike.
Follow his adventures on his website or through his Facebook page at http://www.facebook.com/PinoyRider